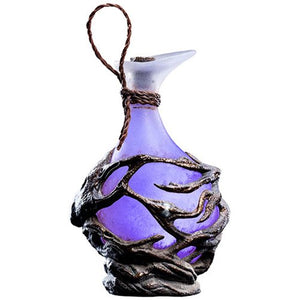 Tachyon Node Space
The Dark Crystal: The Age of Resistance Essence Vial 1:1 Scale Prop Replica
Regular price
£36.11
£0.00
Unit price
per
Based of the Netflix series

 

The Dark Crystal: The Age of Resistance!
Crafted from glass and resin, this 1:1 scale prop replica incldues a lighting feature to replicate the glowing essence seen on screen!
Measures 5 1/4-inches tall!
Weta Workshop travels to mystical world of Podlings, Geflings, and Skeksis! Based off the Netflix show

 

Dark Crystal: The Age of Resistance

, fans can own their own vial of essence. The Dark Crystal: The Age of Resistance Essence Vial 1:1 Scale Prop Replica comes packaged in a closed box.

The grim fruit of malignant science, essence vials were small glass receptacles into which were distilled the drained life essences of captured Gelflings. A cruel invention of the Skeksis Scientist, SkekTek, essence draining was accomplished by strapping captives into a device which used the power of the sickening Crystal to suck from them their vital energies, collecting them in liquid form. These delicate flasks of life force were greedily consumed by the pernicious Skeksis, thereby artificially extending their own long, thin lives. The act was a vile betrayal of the power of the Crystal and of the Gelflings, who trusted their draconic lords with its custodianship and their own safety. The uncovering of this secret crime and its consequences will shake the foundations of Thra.
---