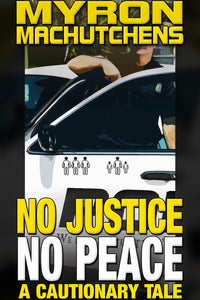 Mythical Legends Publishing
No Justice, No Peace
Regular price
£11.23
£0.00
Unit price
per
No Justice, No Peace: A Cautionary Tale is a story that details what MacHutchens believes is the only way to break a nearly four hundred year American tradition of whites murdering Blacks without consequence. In his own words, he says, "This has to be the only means of African Americans to finally achieve the same measure of justice whites have enjoyed since they embarked on the genocide of the continent's native peoples. Were there any other possible way, it would have happened by now."
If you like:
Thriller, Social Justice, Procedural
NOTE: Book ships from our Printer 1 to 5 business days. Most book orders are dropped shipped from the Printer.
BOOK DETAILS
Publisher: Mythical Legends Publishing
Category: Fiction and Literature, Thrillers
Category: Mystery and Suspense, Thrillers
Language: English 
PAPERBACK - Variant cover
ISBN-13: 978-1943958313
5 x 8 inches
Publication Date: 09/30/2017
Page Count: 372
MASS-MARKET PAPERBACK
ISBN-13: 978-1943958450
4.4 x 7 inches
Publication Date: 08/15/2018
Page Count: 518
PAPERBACK
ISBN-13: 978-1943958160
5 x 8 inches
Publication Date: 09/30/2017
Page Count: 372
---