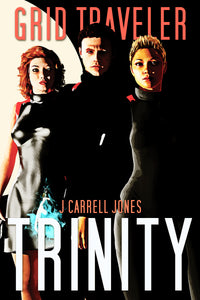 Mythical Legends Publishing
GRID Traveler Trinity
Regular price
£11.23
£0.00
Unit price
per
After searching the galaxy for centuries, The Most High Goddess found planet Necron, the origin of Magick. They also discovered Captain Sean Blakemore is one of a handful of humans with the ancient alien DNA that can unlock the planet's vast powers. If you like fast-paced space fight scenes, story arcs told episodically with nods to the great Space Opera writers, wonderful character development, then you'll love J Carrell Jones' fascinating world where ancient alien nano-technology is the force behind Magick, and the good guys really are good.
---
Sean Blakemore, Commander of the GRID Battlecruiser Reginald L Johnson, wallowed in self-loathing. He drank too much, suffered from depression, and swam in self-pity. He figured life could not suck any worse when he received new orders. He had to hand the Johnson over to another commanding officer. God hated him he thought.
Then . . . Dr. Loggar, head scientist in charge of this new mission, drew him into the semi-secret world of The Most High Goddess. She gave him hope.
GRID Traveler Trinity is a story of Sean's redemption, from rock bottom to discovering Humankind's true origins and possibly its inevitable future.
NOTE: Originally the series was named GRID Traveler Trilogy. This book includes books #1 - #3.
Book ships from our Printer 1 to 5 business days. Most book orders are dropped shipped from the Printer.
 If you like:
 Dr. Who, Star Trek, Star Wars, Firefly, Forbidden Planet, Harry Potter, and Buck Rogers
CLICK HERE FOR THE MOST HIGH GODDESS MAGAZINE COVER THUMBNAILS

Goodreads/Amazon Review- 
"The portions that I enjoyed the most were the way fantasy and science fiction were combined--we had ages-old aliens who were both all-knowing and foolish. We had mad grabs for power from a variety of sources that made for fabulous scenic climaxes." - Brenda FULL GOODREADS REVIEW
"A lot of the characters were a lot of fun. Sean was wonderfully loyal and steadfast to his crew and I REALLY enjoyed some of the crew's quirks. I was especially fond of the constant running pools and the importance of food. Cookie was arguably the most important person on board." - Sadie Forsythe, GOODREADS REVIEW
". . . an extremely good first contact story, with well written characters, in a thrilling plot that kept the reader engaged in the book. . ." - Donald, Amazon
BOOK DETAILS
Publisher: Mythical Legends Publishing
Category: Science Fiction - Space Opera
Category: Science Fiction - Alien Contact
Category: Fantasy - Magick
Language: English
PAPERBACK
ISBN-13: 978-1943958870
5.0 x 0.76 x 8 inches
Publication Date: 09/30/2017
Page Count: 368
MASS-MARKET PAPERBACK
ISBN-13: 978-1943958856
4.4 x 0.9 x 7 inches
Publication Date: 06/30/2018
Page Count: 424
HARDCOVER
ISBN-13: 978-1943958887
6.1 x 0.8 x 9.2 inches
Publication Date: 09/30/2017
Page Count: 320
---