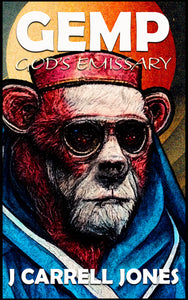 Mythical Legends Publishing
GEMP
Regular price
£6.41
£0.00
Unit price
per
A creationist would tell you God created the Heaven, Earth, the skies above it, and everything beyond. God created Humans in His image. We are here to serve, not command. An Evolutionist may say the Universe was created with a flash bang and that Earth is a small part of a bigger picture. We are here to ensure the perpetuity of the species. We think, therefore we are. Steve Launse thought it all academic. To him, God was a device that drove Humans to achieve. We advanced because we needed to believe. We had to believe and thus we grew. We created God, who created us. Then, one day, the Government knocked at his door and handed him a blank check. "You can prove your theory," they said. "I don't play with Human emotions," he said. They answered, "We are not talking about Humans." Decisions. A blank check. No restraint. No limits. What does one do?
*GEMP - Genteically Engineered chiMPs
If you like:
Genetic and Behavior Manipulating, some sexual abuse and violence
NOTE: Book ships from our Printer 1 to 5 business days. Most book orders are dropped shipped from the Printer.
BOOK DETAILS
Publisher: Mythical Legends Publishing
Category: Young/New Adult Action Adventure
Category: Science Fiction
Language: English
MASS-MARKET Paperback 
ISBN-13: 978-1943958603
4.4 x 7 inches
Publication Date: 06/30/2018
Page Count: 154
---