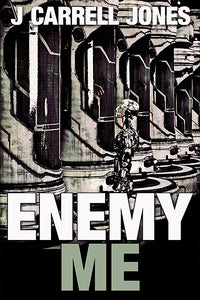 Mythical Legends Publishing
Enemy Me
Regular price
£6.62
£0.00
Unit price
per
ete Walker died . . . again . . . and again . . . and again . . . The very profitable pharmaceutical behemoth Forever Life, Inc. was ready to start Human trials using a new wonder drug that would liberate the world. Every disease known - cured. Every handicap or birth defect - eliminated. You don't like your hair texture? Your eye color? Skin color? Height? One small pill taken at night, a short drug induced coma, and several days later - a new you. The problem was that Pete feared this new pill would lead to the extinction of humankind. This meant he had to stop Forever Life at any cost. Any. Cost. Which, included his life . . . again . . . and again . . . and again . . .
If you like:
Clones, Romance, Mystery
NOTE: Book ships from our Printer 1 to 5 business days. Most book orders are dropped shipped from the Printer.
BOOK DETAILS
 Publisher: Mythical Legends Publishing
Category: Dystopian Fiction
Category: Science Fiction - Clone and AI
Language: English
 PAPERBACK 
ISBN-13: 978-1943958375
5.0 x 8 inches
Publication Date: 10/21/2014
Page Count: 236
MASS-MARKET Paperback 

ISBN-13: 978-1943958368
4.4 x 7 inches
Publication Date: 08/30/2017
Page Count: 202
---