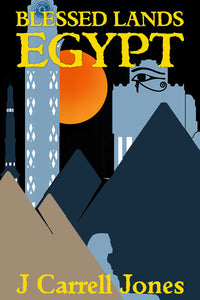 Mythical Legends Publishing
Blessed Lands Egypt
Regular price
£6.41
£0.00
Unit price
per
Blessed Lands Egypt - The year is now, but things are very different. Ancient Egypt never became ancient. Libyans, Nubians, and Assyrians never invaded. The Thirtieth Dynasty repelled the Persians in 343 BC. and Egypt entered a long period of expansion. Syria, Greece and all of Africa conquered. Rome fell before it truly began. Most of Europe and Parts of Asia were absorbed. Egypt became the dominant country from the 18th through the 20th century. The Blessed Lands embraced peace after a long bloody war with the Cursed Lands across the Atlantic Ocean. Life for most Egyptians was good.

In an alternate historical timeline, Priest Honute, a former warrior, wants to live a quiet peaceful life. He is chosen by a brilliant scientist to partake in an experiment that will grant him magickal powers. The Vizier of The Middle Region, Friend of the Royal Family wants to control this power. Honute struggles to control his internal rage and only wants inner peace.
If you like:
Alternate History, Egyptian Mythology 
NOTE: Book ships from our Printer 1 to 5 business days. Most book orders are dropped shipped from the Printer.
BOOK DETAILS
Publisher: Mythical Legends Publishing
Category: Fantasy - Fiction and Literature, Thriller
Category: Fantasy - Fiction and Literature, LGBT, Gay
Language: English
MASS-MARKET Paperback 
ISBN-13: 978-1943958573
4.4 x 7 inches
Publication Date: 08/30/2017
Page Count: 238
---